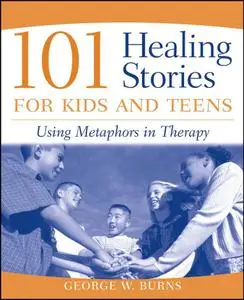 George W. Burns, 101 Healing Stories for Kids and Teens - Using Metaphors in Therapy
John Wiley & Sons | ISBN 0-471-47167-4 | 2004 | PDF | 334 Pages | 1.00 MB
101 Healing Stories for Children and Teens is a must read for anyone working with this age group. George Burns takes the reader on a wonderful journey, balancing metaphor, good therapeutic technique, and empirical foundations during the trip. Given that Burns utilizes all three aspects of the Confucian story referred to in the book—teaching, showing, and involving—any reader using this resource should increase their understanding of how stories can be used therapeutically."
— Richard G. Whiteside, MSW
"Healing Stories is a rare text: at once delightful to read, lively, informative, practical and reassuring. Burns' confidence in the curative power of metaphor bursts forth from the pages, demystifying the art of telling a good story in the process. Here are wonderful tales we can tell kids, they can tell us, and we can coauthor with them.
Burns takes us through all the steps involved in building a good therapeutic narrative so even the most tongue-tied clinician can spin a useful tale."
— Martha B. Straus, Ph.D., Professor, Department of Clinical Psychology, Antioch New England Graduate School
"George Burns is a highly experienced clinician with the remarkable ability to create, discover and tell engaging stories that can teach us all the most important lessons in life. With 101 Healing Stories for Kids and Teens, he strives especially to help kids and teens learn these life lessons early on, providing them opportunities for getting help and even learning to think preventively. Burns has made an invaluable contribution to helping young people build good skills and good lives."
— Michael D. Yapko, Ph.D.