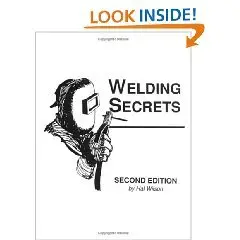 Welding Secrets
Flyco Machine Company | June 12, 1990 | ISBN: 0970055404 | 60 pages | PDF | 14 mb
Welding Secrets. No other book will prevent more accidents. It tells where not to weld and contains 75 photographs, 10 sketches and a wealth of knowledge from 49 years of experience.
Welding Secrets explains why a weld bead shrinks more where it stops than it does where it starts. Pictures of test welds show the difference between "free expansion" and "confined expansion". It explains how stresses, caused by a weld made under confined expansion, can harm the workpiece.
Welding Secrets is a welding guide for the self taught welder, as well as the more experienced welder. It makes a great training manual and is used across the USA by many major manufacturers.