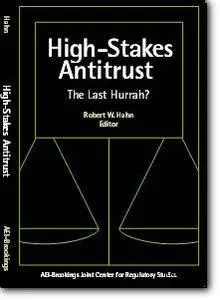 Robert William Hahn (Editor), «High-Stakes Antitrust: The Last Hurrah?»
American Enterprise Institute Press | ISBN 081573395X | 2003 Year | PDF | 0,62 Mb | 160 Pages
After nearly twenty years of a "less is more" approach to antitrust, the Department of Justice under the Clinton administration took action against several major corporations that rely on financial, transportation, and electronic networks to support their business—Visa/MasterCard, American Airlines, and Microsoft.
In High Stakes Antitrust, noted scholars with divergent opinions examine the impact and validity of the Justice Department's actions. Some believe that it was well within the law to pursue these companies, while others argue that the administration exceeded its authority. They all agree, however, that the impact of the Clinton administration's antitrust policies will be felt for quite some time.