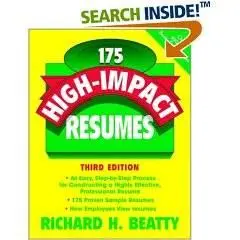 Richard H. Beatty, «175 High-Impact Resumes»
Wiley | ISBN: 0471210854 | 311 Pages | Format: DjVu | Size: 4,24 Mb
The ingenious guide to making your resume stand out from the crowd. 175 High-Impact Resumes, Third Edition provides the tools, tips, and examples you need to build a professional resume that packs a punch. It guides you step by step through the process of constructing your resume and highlighting key components while giving you a clear understanding of the design, content, and overall performance of each part. You'll learn how and when to use a variety of resume formats, including chronological, functional, linear, and others.
With 175 hand-picked, successful resumes of both experienced job seekers and recent college grads, there's definitely a resume here that suits your needs. Almost all the resumes in this new Third Edition have been revised and updated to reflect the current thinking and terminology of the employment profession.
And there's more:
* A new chapter that provides a practical checklist of the "do's" and "don'ts" of resume writing
* Guidelines for preparing a professional electronic resume
* Results of an authoritative survey of employment professionals that highlight what employers look for in resumes
* Resumes across a wide array of occupational areas, including administration, finance, accounting, human resources, public relations, law, marketing, sales, technical services, engineering, education, retail, and many more By following the guidelines and model resumes in this invaluable book, you can automatically build a highly effective professional resume with wallop. Regardless of your level of experience and no matter what industry you're in, 175 High-Impact Resumes, Third Edition will help you get the big interview and land that knockout job.