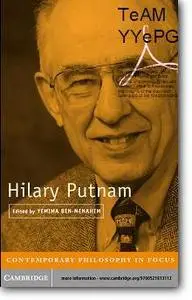 Yemima Ben-Menahem (Editor), «Hilary Putnam (Contemporary Philosophy in Focus)»
Cambridge University Press | ISBN 0521813115 | 2005 Year | PDF | 1,59 Mb | 284 Pages
The richness of Putnam's philosophical oeuvre consists not only in the broad spectrum of problems addressed, but also in the transformations and restructuring his positions have undergone over the years. The essays collected in this volume are sensitive to both these dimensions. They discuss Putnam's major philosophical contributions to the theory of meaning, the philosophy of mind, the philosophy of science and mathematics, and moral theory. But, in addition, tracing threads of change and continuity, they analyze the dynamics underlying the unfolding of Putnam's thought. The volume also constitutes a critical introduction to a number of central issues in contemporary philosophy, including quantum logic, realism, functionalism, the 'minds as computer' metaphor, and the fact/value dichotomy.