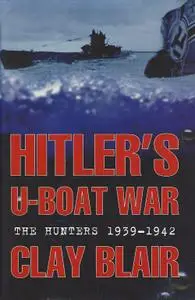 Hitler's U-Boat War: The Hunters, 1939-1942 (Volume 1) by Clay Blair
21 July, 2010 | English | ePUB + Mobi + PDF | 984 pages | ISBN: 9780307874375 | 16.4 + 18.3 + 16 MB
It is an epic sea story, the most arduous and prolonged naval battle in all history. For a period of nearly six years, the German U-boat force attempted to blockade and isolate the British Isles, in hopes of forcing the British out of the war, thereby thwarting the Allied strategic air assault on German cities as well as Overlord, the Allied invasion of Occupied France. Fortunately for the Allies, the U-boat force failed to achieve either of these objectives, but in the attempt, they sank 2,800 Allied merchant ships, while the Allies sank nearly 800 U-boats. On both sides, tens of thousands of sailors perished.
The top-secret Allied penetration of German naval codes, and, conversely, the top-secret German penetration of Allied naval codes played important roles in the Atlantic naval battle. In order to safeguard the secrets of codebreaking in the postwar years, London and Washington agreed to withhold all official codebreaking and U-boat records. Thus for decade upon decade, an authoritative and definitive history of the Battle of the Atlantic could not be attempted. The accounts that did appear were incomplete and full of errors of fact and false interpretations and conclusions, often leaving the entirely wrong impression that the German U-boats came within a whisker of defeating the Allies, a myth that persists.
When London and Washington finally began to release the official records in the 1980s, Clay Blair and his wife, Joan, commenced work on this history in Washington, London, and Germany. They relied on the official records as well as the work of German, British, American, and Canadian naval scholars who published studies of bits and pieces of the story. The end result is this magnificent and monumental work, crammed with vivid and dramatic scenes of naval actions and dispassionate but startling new revelations and interpretations and conclusions about all aspects of the Battle of the Atlantic.
The Blair history will be published in two volumes. This first volume, The Hunters, covers the first three years of the war, August 1939 to August 1942. Told chronologically, it is subdivided into two major sections, the War Against the British Empire, and the War Against the Americas. Volume II, The Hunted, to follow a year later, will cover the last years of the naval war in Europe, August 1942 to May 1945, when the Allies finally overcame the U-boat threat.
Never before has Hitler's U-boat war been chronicled with such authority, fidelity, objectivity, and detail. Nothing is omitted. Even those who fought the Battle of the Atlantic will find no end of surprises. Later generations will benefit by having at hand an account of this important phase of World War II, free of bias and mythology.
From the Hardcover edition.