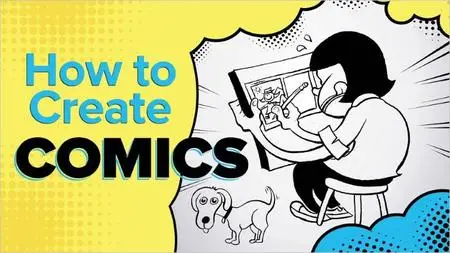 TTC Video - How to Create Comics
.MP4, AVC, 1280x720, 30 fps | English, AAC, 2 Ch | 5h 18m | 4.46 GB
Lecturer: Peter Bagge, Cartoonist | Course No. 80050
From political cartoons and the newspaper funny pages to emotionally resonant biographies and multi-volume superhero epics, the scope of comics is a broad one. While many people may still hold onto the outdated idea that comics are silly or childish, the truth is comics comprise a multi-billion-dollar industry with an immense, world-spanning fanbase of all ages and from all walks of life. Whether you consume them as syndicated strips on cheap newsprint or as serialized arcs in glossy, collector's edition volumes (often labeled "graphic novels"), comics have something to offer everyone.
Comics in the US began in earnest at the tail end of the 19th century, with the first newspaper comic strip in 1896. However, if you look back to political cartoons and other forms where text and image collide, you could actually say comics have been around, in one form or another, for centuries. Since the early 20th century, iconic characters like Superman and Captain America have leapt from the pages of comics and onto the screen, culminating in comic books as the source material for some of our most successful films, television shows, and video games. Comics have also proven to be an ideal form for memoirs, biographies, historical narratives, and other more "serious" literature, with many titles becoming bestsellers and even finding their way into school curricula.

So, how are comics made? What are the rules of the medium? How would a writer or an illustrator—or both—begin creating their own comics? These and other questions are what you will explore in the 12 inspiring lessons of How to Create Comics. Taught by Peter Bagge, a cartoonist and award-winning comics creator, these lessons will show you how comics are made and why they have become so enduringly successful. Like any wide-ranging and long-lived medium, comics creators put certain technical and creative tools to use when they produce their stories. You will get a firsthand look at how these tools are used—and how digital tools have changed the comics landscape. Whether you want to create your own comics or simply better understand the medium as a fan, this course will give you the tools and the insight to see how comics work and to start you on your way to creating your own stories.

Tips, Tricks, and Tools of the Trade

To create comics, you first need to understand them. While comics are not the only medium to use text and imagery together to tell a story, they are unique in the ways they use prose and illustration in a special kind of harmony. In other words, comics are not simply illustrated texts; rather, they fuse the written word and imagery together in such a way that one can't work without the other.

Many comics creators both write and draw their own work, from newspaper comic strip creators to literary memoirists. It is often easier to have a singular vision in your comics when you are the one controlling all aspects of the work. But there are also numerous comics created by multiple individuals with different roles. In the case of many of the biggest and longest-running superhero comics, there are writers, illustrators, colorists, letterers, and a host of other roles, all filled by different people who must work together to create the finished product. Whether you want to be a single creator or fill a role in a larger production, Professor Bagge will give you a thorough understanding of how each of the parts of a comic must come together, and how to consider every aspect of storytelling when you create—or enjoy—comics.

There is no one way to make comics—the medium is far too broad and inclusive to claim there is a singular "right" way to tell stories. But there are technical aspects, materials, and terminology any would-be creator should know, such as:

Panels and Layouts. Comics use specific page layouts and individual panels in different arrangements to tell their stories. Understanding the traditional rules of formatting and constructing comics can give you much-needed structure—and can also show you which rules are worth breaking for the effects that you would like to achieve.
Color Palettes and Schemes. Some comics are created in monochrome, some in full-color, and others fall somewhere in-between. You will learn to better understand how color serves your drawings and how you can create moods with different color choices and contrasts of light and dark.
Character Design. The characters you will create for your comics, whether they are realistic or not, are something you will have to reproduce again and again, so it is important to understand what details you should include and what you can leave out.
Professional Supplies. The range of art supplies available can be overwhelming if you are unfamiliar with them, so Professor Bagge will show you what professionals use and why they often favor certain kinds of paper, pencils, pens, brushes, and more.
Word Bubbles. Speech bubbles, thought clouds, and text boxes are all an iconic part of comics, but they can become overwhelming if they are relied on too heavily. Understanding how to balance words and images is a vital component of making a comic work as more than an illustrated text.
Analog vs. Digital. We live in a world where many comics are no longer produced solely by hand, with paper and pen. In the new digital landscape, it is important to understand how digital comics are made and distributed, and how to decide when you want to work with physical media, digital tools, or both.

From the Sunday Supplement to the Pulitzer Prize

As you explore the ins and outs of creating comics, Professor Bagge taps into his own comics expertise while also touching on the work and influence of some of the medium's greatest creators, including:

Charles Schultz;
Art Spiegelman;
Marjane Satrapi;
Jack Kirby;
Steve Ditko;
Stan Lee;
Crumb;
Michael DeForge;
Roz Chast, and many more.

Many of these comics artists and writers have won awards and have seen their work published around the world. Comics have entertained, influenced popular culture, and engaged readers of all ages for decades. Creators like Stan Lee and Jack Kirby have created iconic characters that have achieved general pop culture significance beyond their pulp comic roots. And some have even helped readers to better understand and process the more difficult moments in history. In 1980, Art Spiegelman created the graphic novel Maus to tell the story of his father's experiences in World War II. Spiegelman's masterpiece is taught in schools around the world and is the first (and, so far, only) comic to win a Pulitzer Prize. Maus is both a testament to the power of comics as an effective mode to tell meaningful stories, and a demonstration of how far comics have come since their earliest days as simple newspaper supplements and disposable pulp magazines.

With the deep knowledge, experience, and technical guidance you will get from Professor Bagge in How to Create Comics, you will be able to start creating your own comics, whether you simply want to make people laugh or you want to tell a deeper story. Along the way, you will also develop a stronger appreciation for comics as a varied and ever-changing medium that offers an astonishing array of storytelling tools and endless possibilities for creativity and imagination. As the late, great comics legend Stan Lee would say, "Excelsior!"