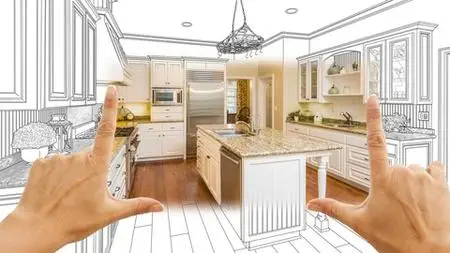 How to Design Your Dream Kitchen
Duration: 5h 31m | .MP4 1280x720, 30 fps(r) | AAC, 44100 Hz, 2ch | 5.94 GB
Genre: eLearning | Language: English
Learn Kitchen Design from A to Z
What you'll learn
Be able to select the right finishes for your dream kitchen
Learn the best areas to spend your money in a kitchen remodel
Understand when it's a good idea to bring in a designer or design/build firm
Learn important questions to ask your contractors to avoid costly mistakes
Learn what order work should be done in during a kitchen remodel
Identify ideal kitchen layouts for smaller and larger kitchens
Implement innovative storage solutions for your kitchen
Learn how to save money on your countertop and backsplash
Learn important guidelines for your backsplash installation
Learn the right questions to ask to help select the right appliances for your family
Requirements
Pen/Pencil
Description
Do you dream of having a beautiful new kitchen, but don't know where to start?
Are you about to start a kitchen remodel, but you are already overwhelmed with all of the choices you have to make? If this is you, then you have come to the right place!
Whether you are planning on simply updating your kitchen finishes or you are planning a complete kitchen gut remodel, the breadth of today's kitchen options are truly incredible, and I am here to break it all down for you so that you feel confident in creating the perfect design for you.
This course really is the A-Z of kitchen design, covering the most important aspects of kitchen design, including, but not limited to:
Realistic kitchen remodeling budgets and timelines
Knowing what to ask your contractors to avoid costly mistakes
Sorting through all of the functional and aesthetic decisions you'll need to make during the kitchen design process including, but not limited to, layouts, cabinetry, lighting, window coverings, breakfast nooks, countertops, backsplashes, appliances, and hardware
How to mix metal finishes in the kitchen like a Pro
How to choose the best kitchen style for you and your home
How to save money when purchasing countertops and backsplashes
Learn the latest in innovative storage solutions and the best small kitchen design hacks
I'll also provide you with some invaluable downloadable resources, first and foremost, a "Master Kitchen Design Planner", which we'll complete together in the course, and once completed, will contain all of the design details you'll need for your kitchen remodel. You'll also be able to download my "Ultimate Kitchen Design Style Guide", which contains a wealth of information, covering the ideal finishes and selections for whichever style of kitchen you choose.
In short, kitchen design is complicated. Unless you are a seasoned interior designer who already has experience in kitchen design, I encourage you to enroll, as this course is ideal for both non-designers as well as professional interior designers who are new to the world of kitchen design. I look forward to seeing you in the course!
IMPORTANT NOTES:
If you are interested in taking most or all of my courses, I have a recommended order in which to watch them (although it's certainly not required). I would start with "How to Design a Room in 10 Easy Steps" because most of my other courses are in-depth classes of the concepts touched on in this 10 step class. Following the 10 Step Course, I suggest moving on to "How to Use Color Like a Pro", followed by "How to Work with Interior Design Styles Like a Pro", then "How to Use Lighting Design to Transform your Home", and finally "Design is in the Details". My other courses, "How to Use Minimalist Interior Design to Live your Best Life", "Use Eco-friendly, Sustainable Design to Improve Your Life", and "How to Design Your Dream Kitchen" are all stand alone classes on specialty topics within interior design, and therefore, can be taken in any order.
Please be aware that this course, or any of my courses, is not intended to provide all of the knowledge needed to become a professional interior designer. As with any professional field, there is a significant amount of education and/or experience that is needed to achieve competency in this field. My intention with these courses is to provide some solid foundational knowledge to assist either those individuals interested in "DIY" interior design to work on their own projects more effectively, or to provide supplemental education to both interior design students and professionals.
Who this course is for:
This course is ideal for anyone who wants to learn how to design their dream kitchen
This course is also for professional interior designers who are new to the field of kitchen design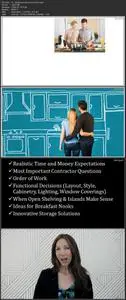 Download from icerbox