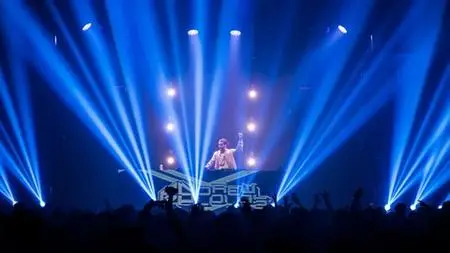 How to DJ Course - from International DJ Andrew Pololos
Video: .mp4 (1280x720, 30 fps(r)) | Audio: aac, 48000 Hz, 2ch | Size: 1.41 GB
Genre: eLearning Video | Duration: 66 lectures (1 hour, 6 mins) | Language: English
The Complete Course On How To DJ - Covering all topics so you can DJ like a pro - Andrew is an official Yacht Week DJ.
What you'll learn
Learn how to mix like the world's biggest DJs. I've had the awesome opportunity to mix in the world's most renowned venues and alongside the most famous international DJs
Learn a complete DJ course whether you want to become a professional DJ or learn how to mix for fun
I've been a professional DJ for 10+ years and have DJed 1000+ events. In this course, I will share all my experience with you. You'll learn advanced mixing skills, tips and tricks from , every function and feature of turntables and mixer, where and how to get high quality music and the business side of being a DJ.
Connect with me on my socials @andrewpololos if you have any questions about the course. I am glad to help :)
Learn to DJ from Scratch
Mix multiple songs together
Use Best mixing softwares
DJ as a career
Requirements
Willingness to Learn
A computer
Description
Hey everyone :)
I'm introducing myself as Andrew Pololos, full time DJ and Producer. I'm here to share my love of music and DJing with you, and to hopefully inspire some of you to become great DJs.
Over the years, I've been fortunate enough to play in the world's most beautiful venues such as:
• Nikki Beach, Porto Heli, Greece
• Carpe Diem Island, Hvar, Croatia
• Looloo, Mexico City
• La Santa, Leon, Mexico
• Hannah Sun Club, Acapulco, Mexico
• Dinsmoor, Acapulco, Mexico
• Akrotiri, Athens, Greece
• Highlander, Santorini, Greece
• Coco Maya, British Virgin Islands, Caribbean
• Cavo Bianco, Ermioni, Greece
• Fort George, Vis, Croatia
• Hula Hula Beach Bar, Hvar, Croatia
• Vanilla Club, Split, Croatia
• Ivory, Wollongong, Australia
• Glasshouse, Wollongong, Australia
• Beachclub, Point-Calumet, Canada (DJ Mag Top 100 Clubs)
And as a resident DJ of New City Gas in Montreal, Canada (DJ Mag Top 100 Club), I've had the pleasure of sharing the bill with:
• Tiesto
• Hardwell
• Steve Angello
• Don Diablo
• Afrojack
• Sonny Fodera
• Franky Rizardo
• Dada Life
• Bakermat
• Sam Feldt
• Bob Sinclar
• Chuckie
• Slander
• Sultan + Sheppard
• Borgeous
• Lost Frequencies
• DJ Mustard
• Fat Joe
and many more
In this online DJ course, you'll learn the technicals and fundamentals of DJing at a professional level. Whether you want to learn how to DJ for fun, or mix at a professional level; we'll cover principles from beginner to advanced levels. I'll show you how to DJ using the latest USB technology (no laptop or controller required), and if you don't have DJ equipment, you can still follow along.
In Section 2 of DJ School, we will change the way you listen to music forever. I'll also show you where and how to get exclusive, new and high quality music online. You'll also learn how to navigate Pioneer's free Rekorbox computer software, and learn how to export music onto your USB keys for DJing,
In Section 3, you'll learn the basic fundamentals of mixing 2 tracks together: Counting Beats, Beat Matching & Beat Syncing. We'll analyze and breakdown our music visually, and prepare to mix on the DJ equipment.
In Section 4, we dissect the Pioneer CDJ Turntable and DJM Mixer. Most sound equipment looks complicated at first, but you will grasp every feature, function, fader, knob and button within minutes.
In Section 5, we will mix our first tracks together and officially knight you as a DJ!
In Section 6, you'll learn advanced DJ and mixing skills. We'll mashup tracks, power mix quickly, transition different styles and genres and go over different mixing techniques like scratching and cutting.
In Section 7, we'll discuss the all important business side of DJing. Having DJ talent and mixing skills are great, but they are only a piece of the puzzle. To be a pro DJ, we'll discuss professionalism, networking, the DJ code, respect and the way you carry yourself.
In Section 8, I'll share some industry secrets and answer frequently asked questions like: How to send a proper email or demo? How to spin a proper opening set? How to build your brand & market yourself? How to release your music iIndependantly? How to get booked in a club? How to negotiate a club salary? And many more…
I'll be with you every step of the way if you have any more questions as well.
Cheers,
Andrew Pololos
Who this course is for:
Beginners who would like to learn how do DJ
Anyone who want's to DJ for Fun or want to make it their Career
Intermediate/Advanced DJs that would like to take their skills to the next level