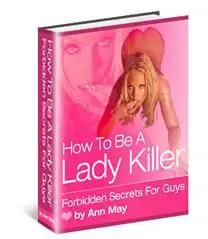 Ann May,«How To Be A Lady Killer»
E-Perpetual Limited, U.K | ISBN N/A | PDF | 1.47 MB | 232 Pages | 2004 Year
How to attract and seduce your choice of woman, can be boiled down to a simple set of steps for you to follow. You can learn these steps quickly and easily to possess a lifetime skill. The big advantage you receive with the How To Be A Lady Killer course, is these exact steps are laid down for you by a WOMAN. Yes, a woman teaching guys how to attract and seduce women!!