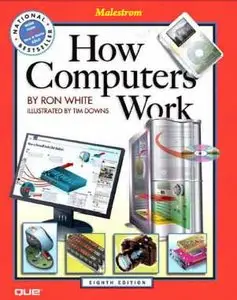 How Computers Work (8th Edition)
464 pages | 8 edition (November 19, 2005) | ISBN-10: 0789734249 | PDF | 39.1 mb
A classic is back in its 8th and best edition yet! How Computers Work, 8th Edition is a must-have for anyone interested in the inner-workings of computers. The full-color, detailed illustrations will take you deep inside your PC and show you just how intricate it is. This latest edition has been updated with information on all of the latest technologies, including:
PCI Express Bus
Serial ATA Connections
Digital Photography Software
TiVos, Gas Plasma Screens, iPods, and Other Home Entertainment Equipment
Google and eBay
3D Game Development, Two-Slot Video Cards, and Overclocking
How Computers Work has sold over two million copies world wide.