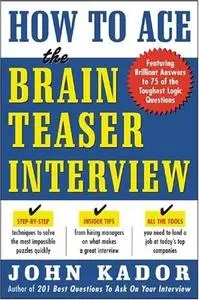 John Kador, «How to Ace the Brainteaser Interview»
McGraw-Hill | ISBN 0071440011 | August 2004 | PDF | 259 Pages | 1,88 Mb
The inside track on how to beat the "logic puzzle" job interview
In
How to Ace the Brain Teaser Interview
, bestselling careers author John Kador gives readers the inside track on this new interview technique. He provides 75 puzzles actually used by HR departments across the nation, and he offers tips on how to solve them and present the solutions so as to make the best possible impression.
As if job interviews weren't nerve-wracking enough, many companies, in their pursuit of the brightest and best, have begun beleaguering applicants with tests of logic, creativity, and analytical abilities. Many firms have replaced traditional interview questions such as "Tell us about yourself" or "What's your biggest weakness?" with mind-benders such as:
Why are beer cans tapered at both ends?
How many piano tuners are there in the world?
How many Ping-Pong balls can you stuff into a Boeing 747?
How would you design a bathroom for the CEO of the company?
If you could remove any one of the 50 U.S.states, which one would it be?
From the Back Cover:
Learn to solve the world's most puzzling interview questions
Company recruiters are asking tough, new brain teasers during interviews that test your skills, creativity, and ability to think on your feet. How would you respond to puzzlers such as "What weighs more on the moon than on the earth?" or "How much money does the tooth fairy distribute worldwide each year?" In How to Ace the Brain Teaser Interview, bestselling career author John Kador presents a wide variety of questions, and shows you the type of responses interviewers want to hear.
Inside you'll find:
151 brain teasers used by human resources departments across the country
Suggestions for handling business cases
Basic hints for solving logic and puzzle questions
Proven strategies for finding creative answers every time
Helpful appendices with bonus questions and extra resources
"In the arms race between interviewers and interviewees, Kador gleefully furnishes job applicants with more ammunition."–
Joel Spolsky, Founder, Fog Creek Software
"This book helps you to grease up your mind a little so that when riddle questions come at you, you can respond intelligently, even if you don't know the answer."–
Chris Sells
"What weighs more on the moon than on earth? Kador not only tells us the answer to this brainteaser and many others, he explains how each question can launch an incisive interview conversation."–
Ed Milano, VP of Marketing, Design Continuum
"A must-have book for job seekers so that they will always be prepared for what may seem off-the-wall questions!"–
Matt DeLuca, co-author of 201 Best Answers to the Most Frequently Asked Interview Questions.
Download Here
Password:
spiderman