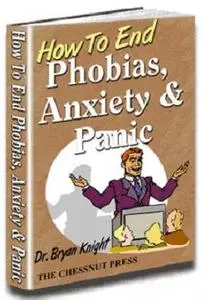 B.Knight, «How to End Phobias, Anxiety and Panic» (3rd edition)
The Chessnut Press | 2004 Year | PDF | 0,37 Mb | 41 Pages
A phobia is an irrational anxiety about a person, place or thing,
which: is out of proportion to any actual danger, cannot be reasoned or explained away, appears silly to the sufferer, but cannot be voluntarily controlled, and leads to avoidance of what is feared.
There are simple phobias and complex phobias.
Simple phobias are those that focus on a single person, place or thing. Often the sufferer simply avoids the feared object, (e.g., an elevator). Simple phobias usually start with a traumatic incident, such as being stuck in an elevator.
They are the easiest type of phobia to overcome.
Complex phobias are those that focus on several objects. And interfere with the life of the sufferer.
A complex phobia might, for instance, include fear of heights, fear of flying, fear of escalators, fear of museums containing aeroplanes, even fear of magazines containing photographs of planes.
To overcome a complex phobia with traditional therapeutic methods – including hypnotherapy – usually requires uncovering its root cause(s).
However, you may find relief (permanently) by using Emotional Freedom Techniques (EFT) about which more later.