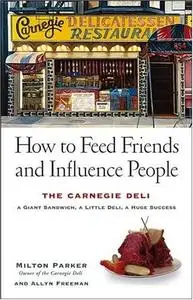 Milton Parker, «How to Feed Friends and Influence People : The Carnegie Deli…A Giant Sandwich, a Little Deli, a Huge Success»
John Wiley & Sons | ISBN 0471680567 | December 2004 | PDF | 194 Pages | 3,30 Mb
Full of insightful wisdom, hilarious anecdotes, and tasty recipes, How to Feed Friends and Influence People tells the savory story of the Carnegie Deli, home of the world-famous gargantuan sandwich. Revealing the core business principles that have made the deli such a success, the book explains why and how the Carnegie became the delicatessen of choice for presidents, celebrities, at least one sultan, and millions of other (extremely) hungry diners from around the world. More than just a delightful and delicious tale of business success, this fascinating and funny book covers the delis history, shows you how to make a real Brooklyn egg cream, and piles up loads of New York history. So get cooking!
This was the favorite hangout of one-liner king Henny Youngman, and the deli is immortalized in comedian Adam Sandler`s Hanukkah Song in the mid-1990s.
And what`s the secret to this fame? Simple: At the Carnegie Deli, you can buy a big sandwich with good meat served by a happy staff.
Half of the 10 business practices that Parker says he follows are devoted to keeping the staff happy:
Create a family atmosphere.
Promote from within.
Have an open ear to staff (and customer) comments.
Management is always responsible.
Have fun working.
Parker, owner since 1976, claims that the success of these values is shown by the fact that many of the deli staff have been gladly working there for over 15 years…
Download Here
Password:
spiderman