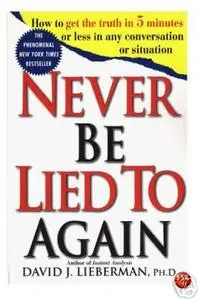 How To Get The Truth Out Of Anyone
PDF | 171.7KB | 15 Pages
Never Be Lied To Again!!!
How to Get the Truth out of Anyone: This is an extremely informative ebook that outlines all of the ways and means of identifying the differences between lies and the truth.
You'll discover all about the signs of deception, body language and communication signs -including some easy to understand examples.
If you never want to be lied to again, this ebook is for you!
In an ideal society there would be no need for lies. But we live in a world of deception. And whether you want to play or not, you're in the game. The question is….do you want to win?
You really can get the truth out of anyone when you know what strategies to employ! This doesn't involve shouting at them or beating them with a stick! No, I'm talking about using an advanced knowledge of the human psyche to extract the truth of of anyone.
There are dozens of proven techniques that you can easily use when you need to find out something that someone doesn't want to tell you. The trick is to know exactly what strategies to use in a given situation, and this awesome info-packed ebook shows you just that!
Learn the Signs of Deception
* Body Language
* Emotional States
* Interpersonal Interactions
* What is said (Actual Verbal Content)
* How something is said
* Psycological Profile
* General Indications of Deceit
* BECOMING A HUMAN LIE DETECTOR
* Actual primers to trip others up and to force them to either tell the truth, or be proved bare faced liars!
* Three phases
* TACTICS FOR DETECTING DECEIPT AND GATHERING INFORMATION IN CASUAL CONVERSATIONS
* MIND GAMES
* Two foolproof methods of getting the EXACT truth!
* ADVANCED TECHNIQUES FOR GETTING THE TRUTH
* and finally….TRICKS OF THE TRADE
Download
(OxyShare)
Download
(RapidShare)