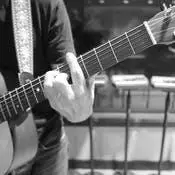 Coursera - How to Play Guitar Specialization by Berklee College of Music
Video: .mp4 (1280x720) | Audio: AAC, 44100 kHz, 2ch | Size: 3.47 Gb | Materials: PDF
Genre: eLearning Video | Duration: 6h 59m | Language: English
Learn to play the guitar in under four months. Everything you need to know to be able to play your favorite songs.
Guitar for Beginners
Grasp the essentials needed to begin playing acoustic or electric guitar. You'll learn an easy approach to get you playing quickly, through a combination of exploring the instrument, performance technique, and basic music theory.
For students who have long thought about picking up the acoustic or electric guitar, this course will provide an easy-access foundation that will get you playing. When first learning guitar, it is important to have the material presented in stages, in an enjoyable way that allows you to grasp the basics of the instrument and music. The course begins simply with the parts of the guitar, the names of the strings, tuning, and technique—whether finger-style or pick. It then explores the basics of music theory with such topics as scales, triads, power chords, and fingering and shapes. At the end of this course, students will understand the structure, parts, and accessories of the instrument, in addition to an understanding of its basic maintenance. Electric guitar players will learn the operation of their instrument along with basic options for amplification, effect pedals, and sounds. Students will also learn to develop correct technique and apply theory concepts to their playing. They will have the foundational knowledge necessary to pursue most intermediate guitar courses.
Guitar Scales and Chord Progressions
You've got the guitar basics down: You can strum your guitar and play a few of your favorite songs, but you're ready to take the tunes to the next level. In Guitar Scales and Chord Progressions you'll expand your knowledge of scales, chord fingerings, and common chord progressions. You'll also learn important skills for soloing, creating melodies, and adding depth and dimension to your guitar playing.
This course is not only for the aspiring guitarist who has taken Berklee's Guitar for Beginners, but also for guitarists who have let their six-string gather dust for too long, and want to brush up on techniques. Each lesson covers the four basic aspects you'll need to sharpen your guitar chops: scales, arpeggios, chord progressions, and rhythm. Amanda's practical approach to learning these important elements is fun and helps you to use what you're learning and practicing in a real musical setting. You'll improve your playing and creativity, whether it be as a singer-songwriter, a guitarist accompanying a singer, or a player in the band. By the end of this course, you'll be more comfortable playing throughout the neck, and you'll gain a better understanding of chord structure and how each chord relates to tonal centers or keys. You'll also be able to solo and improvise by playing simple lead guitar lines based on the minor pentatonic scale. Whether your preference is for acoustic or electric, the curriculum is designed to turn you into a real guitarist.
Guitar Chord Voicings: Playing Up The Neck
Whether you're just picking up the guitar for the first time or you've been playing the guitar for years and want to take your playing to the next level, Guitar Chords 101 will help you develop a deeper knowledge and understanding of chords. Guitar Chords 101 presents Berklee's approach to constructing chords, a method that focuses less on the shape of an individual chord, and more on the notes that the chord is based around. You will learn to construct and play triads, basic 7th chords, inversions, and different chord voicings—the basic foundations guitarists use to write or perform in any number of different styles.
You will gain more freedom and a greater feel for your instrument by learning how to visualize chord structures anywhere on the neck of the guitar. By the end of the course you will be able to add more dynamics and expression to your playing and gain an extensive chord vocabulary, which will prove invaluable in pursuing any style of music. By the end of this course, you will be able to: - Look at a lead sheet and play chord voicings - Construct triads, 7th chords, and inversions - Play and know the voicings of various chord qualities such as a major triad, minor triad, dominant 7, and gospel chords - Play triads over bass notes
Guitar Performance Techniques
Your favorite guitarist didn't become your favorite guitarist without the support of other musicians. The most important skill for a guitarist to learn is the exact same skill that was so important in kindergarten: playing well with others. Guitar Performance Techniques gives guitarists the essential and practical skills to play well with others in any ensemble situation. This course begins with daily warm-up techniques that help you prepare for rehearsals, jam sessions, and stage performances. From there, you'll explore chords, time accuracy, tone production, ear training, and the many aspects of jamming with other musicians. Upon successful completion of this course, you will be able to confidently interact with other musicians in a group setting and bring your A-game to any jam session you join.