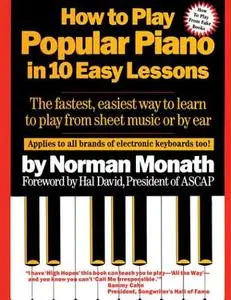 Norman Monath, «How To Play Popular Piano In 10 Easy Lessons»
Fireside | ISBN 0671530674 | November 1984 | PDF | 141 Pages | 2,93 Mb
"Anyone who can dial a telephone can learn to play popular piano quickly and easily". So says Norman Monath, author of How to Play Popular Piano in 10 Easy Lessons. His no-frills, no-drills method will have you playing simple tunes within 30 minutes – even if you don't know one note from another.
The secret? Learning the basic chords and how to adapt them. With lots of clearly illustrated chord examples, keyboard diagrams and practice pieces ranging from "Silent Night" to "Raindrops Keep Fallin' on My Head," Monath teaches you:
* The basic structure of music
* How to alter the basic chords for creative accompaniment
* How to read tunes from sheet music
* How to improvise
* How to play by ear
* How to create your own playing style – whether you lean toward pop, blues, jazz or rock
For everyone from rank beginner to experienced virtuoso, this step-by-step, uncomplicated guidebook makes learning to play popular piano the easy and enjoyable experience it should be. If you have been wanting to learn that keyboard you purchased out of instinct but couldn't really know where to begin, this is really a good starting point.
Download:
http://rapidshare.de/files/16445165/HTPLYPOPian.rar
Password:
nice-and-easy-piano
Enjoy… :)
Dr. Kimble
.-