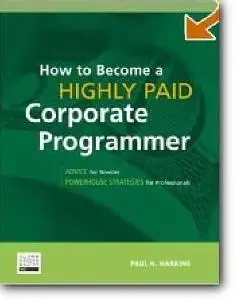 Paul H. Harkins, «How to Become a Highly Paid Corporate Programmer»
Mc Press | ISBN 158347045X | 2004 Year | CHM | 0,35 Mb | 200 Pages
Written for those gifted coders and programmers who get wrapped up in how complex their code is and forget the basics of how to be successful in a corporate culture, this guide will help put these programmers on the fast track to promotions and raises. Programmers fresh out of technical school are shown how to make the transition into a corporate setting by managing the interview process, learning from the programmers already in the workplace, and learning the business side of programming. Seasoned programmers are provided with tips on how to please supervisors, how to maximize their worth in corporations, and how to develop mentoring relationships. Advice on moving out of the corporate world and becoming an entrepreneur either in the consulting arena, in writing package software, or in founding a software development company is also provided.