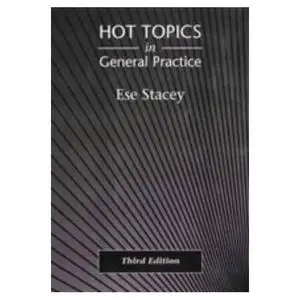 Hot Topics in General Practice
Really HOT - even if it's 2000 publication
Author:
by Ese Stacey
ISBN:
1859961290
Publisher:
Scion Publishing Ltd; 3Rev Ed edition
Format:
PDF
Price:
$46.96
Book Description
Hot Topics in General Practice 5e is the latest edition of the best-selling book for all those taking the MRCGP and also for qualified GPs wanting to keep up-to-date with the latest views. Hot Topics in General Practice 5e has been comprehensively revised and updated. This new edition: • contains nine completely new topics, including the latest information on burnout, cannabis, and immunization • continues to provide the easiest possible access to summaries of the key papers in general practice • incorporates full references to the original journal articles to allow more detailed review is essential reading for GP trainees –This text refers to the Summaries of articles published from 1993 to 1995 in four general practice journals: British Medical Journal, British Journal of General Practice, Drug and Therapeutics Bulletin, and Evidence-based Medicine. For general practitioners and medical students. Softcover. –This text refers to an out of print or unavailable edition of this title.
The links are here :
http://rapidshare.de/files/36197450/HT-GP.part1.rar
MD5: 02E5401567495FC32CA382B395096517 23.84 MB
http://rapidshare.de/files/36197452/HT-GP.part2.rar
MD5: AF099D91B468C343FD503E8CB4113C8B 23.84 MB
http://rapidshare.de/files/36197454/HT-GP.part3.rar
MD5: F6140F3E220B68B5712285AFEA04B89E 7.11 MB
and
PW = kapioskanis
NOTE : Other Stuff too in folder
http://rapidshare.de/users/OSZ5RR
with this
F-PW=OSZ5RR
PS
1) There are 12 NEW!!! MD.Books
2) Please, NEED points for keeping alive the Folder.
3) Thank you, for NOT mirroring, in advance.