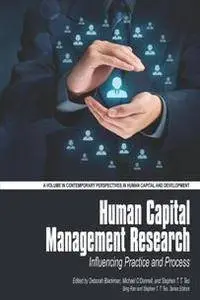 Human Capital Management Research :
Influencing Practice and Process
by Deborah Blackman and Michael O'Donnell
English | 2016 | ISBN: 1681234645 | 197 Pages | PDF | 83 MB
When reading current human capital management or human resources management textbooks, it is clear that many do not reflect current research. Even new Strategic HRM books are only recently reporting research that has been widely discussed in academic journals over the last 10 years. Discussion with those who span the academic/practice worlds shows that they have regularly been struck by the dissonance between the journals and the texts. They agree that there should be more commonality but suggest that, although some of the HRM journal articles may carry some implications for practice, many do not. They are often vague as to the real potential value of the research and only outline potential interventions in a very rudimentary way. Covering a range of topics which affect the way that human capital is attracted, developed, managed and supported, this book presents recent research which can be applied to the real world. Written by practitioners with academics, each chapter provides an overview of the research, as well as the links to current human capital management practices and identifying potential implications for future implementation. The book is designed to be of interest to academic researchers, university professors and graduate students, and to management scientists, industry economists, government officials, public policy developers and analysts, research and laboratory managers, marketing, human resources and operations managers, in fact anyone who is interested at understanding the current progress of human resources management and human capital development.