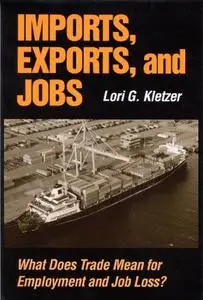 Imports, Exports, and Jobs:
What Does Trade Mean for Employment and Job Loss?
By
Lori G. Kletzer
(Format: PNG Size: 13.22 MB)
Book Description
A number of recent studies of the impact of international trade on the domestic labor market have revealed potentially important links between increased earnings, particularly for less-skilled manufacturing workers.
This book seeks to add to that research and contribute to future policy debate by providing a detailed examination of the relationship between changes in international trade, employment, and job displacement for a sample of U.S. manufacturing industries. The link between international trade and domestic jobs is explored through studies of both net and gross employment change. Bringing together a variety of measures of employment change may offer a more complete understanding of the impact of trade on domestic employment than one approach alone. I proceed as follows
Economists bring to the question of the impact of trade on domestic employment an extensive and informative set of insights known as international trade theory. some of the basics of trade theory from a useful foundation of this study's empirical focus.
Contents
1) Introduction
2) Understanding the links between increasing foreign competition and domestic employment and job loss
3) Evidence from earlier studies
4) Inside manufacturing
5) Modelling labor market responses to changes in trade and import competition
6) Measuring the link between changes in industry employment and changes in trade flows
7) Job displacement and foreign competition
8) Conclusions and policy implication
Appendix A
Measures of trade volumes and import prices
Measuring industry employment and job loss using the CPS
Appendix B
Construction of Instruments