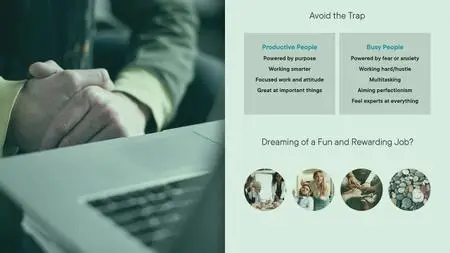 Increasing Productivity through Positivity
.MP4, AVC, 1280x720, 30 fps | English, AAC, 2 Ch | 1h 21m | 375 MB
Instructor: Ada Epistatu
This course will provide to you a set of tools for looking with different eyes to current challenges and understanding the importance of a positive and healthy work related environment.
No matter your current role, it is important to start fostering your company culture today! Whether you work in a B2C or B2B industry, a positive work environment helps improve results for you, your team, and your customers. In this course, Increasing Productivity through Positivity, you'll learn to maximise your productivity while promoting a positive and healthy culture. First, you'll explore how to transform your current challenges into opportunities, how to deal with frustration, conflicts, and low productivity. Next, you'll discover new perspectives of a positive and healthy work related culture. Finally, you'll learn how to make the best out of a productive day. When you're finished with this course, you'll have the skills and knowledge of Increasing productivity through positivity needed to have a huge sense of satisfaction, enjoy the time spend at work and get outstanding results.