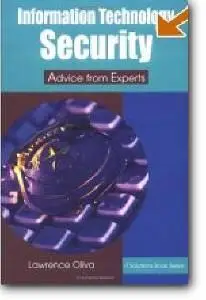 Lawrence Oliva (Editor), «Information Technology Security: Advice from Experts»
Cybertech | ISBN 1591402476 | 2005 Year | CHM | 0,81 Mb | 250 Pages
As the value of the information portfolio has increased, IT security has changed from a product focus to a business management process. Today, IT security is not just about controlling internal access to data and systems but managing a portfolio of services including wireless networks, cyberterrorism protection and business continuity planning in case of disaster. With this new perspective, the role of IT executives has changed from protecting against external threats to building trusted security infrastructures linked to business processes driving financial returns. As technology continues to expand in complexity, databases increase in value, and as information privacy liability broadens exponentially, security processes developed during the last century will not work. And, in the context of the 9/11 attacks, IT leaders must prepare their organizations for previously unimagined situations. IT security has become both a necessary service and a business revenue opportunity. Balancing both perspectives requires a business portfolio approach to managing investment with income, user access with control, and trust with authentication. IT Solutions Series: IT Security: Advice from Experts is a collection of interviews of corporate IT security practitioners offering various viewpoint on successes and failures in managing IT security in organizations.