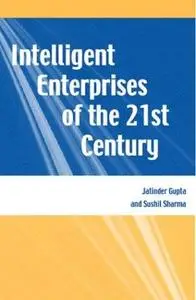 Intelligent Enterprises of the 21st Century
edited by Jatinder Gupta, Sushil Sharma
Idea Group Publishing | ISBN: 1591402697 | 2004 | 350 pages | 4.8 MB
Business intelligence has always been considered an essential ingredient for success. However, it is not until recently that the technology has enabled organizations to generate and deploy intelligence for global competition. These technologies can be leveraged to create the intelligent enterprises of the 21st century that will not only provide excellent and customized services to their customers, but will also create business efficiency for building relationships with suppliers and other business partners on a long term basis. Creating such intelligent enterprises requires the understanding and integration of diverse enterprise components into cohesive intelligent systems. Anticipating that future enterprises need to become intelligent, Intelligent Enterprises of the 21st Century brings together the experiences and knowledge from many parts of the world to provide a compendium of high quality theoretical and applied concepts, methodologies, and techniques that help diffuse knowledge and skills required to create and manage intelligent enterprises of the 21st century for gaining sustainable competitive advantage in a global environment. This book is a comprehensive compilation of the state of the art vision and thought processes needed to design and manage globally competitive business organizations.