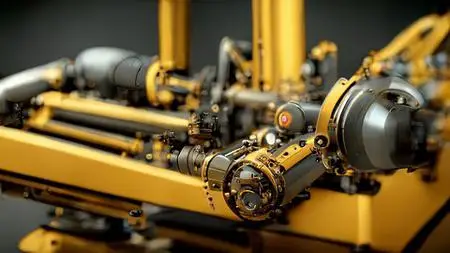 Intermediate Fusion 360
Published 08/2022
Genre: eLearning | MP4 | Video: h264, 1280x720 | Audio: AAC, 44.1 KHz
Language: English | Size: 7.42 GB | Duration: 56 lectures • 13h 43m
Expanding Your Fusion 360 Skills
What you'll learn
Practice Sketching, 3D Features, and Assembly Skills In Project Enviroment
Create well thought out and complete project assemblies
Be able to break down projects into parts and tackle them one at a time
At the end of the course you should be considered a intermediate to advanced Fusion 360 CAD modeler
Requirements
My Beginning Fusion 360 course or other Fusion 360 experience
Description
Welcome to Intermediate Fusion 360
This is a project centered course
All course content is projects
4 Projects to be exact
The prerequisite for this class is my Beginning Fusion 360 course or prior Fusion 360 experience
This course has minimal hand holding and going over tools
We will just jump into making projects
Only some review of what was included in my Beginning Fusion 360 course
Also this course is significantly more fast pace than my Beginning Fusion 360 course
This take a more of a follow along as i go through the though process of designing these projects
Because this is the structure of the course sometimes ideas such as manufacturability and assembility are discussed in the design process
Course contains more advanced versions of the basics of Sketching, 3D Features, and Assembly
There is less focus on Drawings in this course and more on Sketching, Modeling, and Assembling
Also we explore editing parts as an assembly and referencing other components in the assembly
Work with the "Cloud" style file structure is also shown more through out this course while building these projects
Importing files from 3D CAD repositories such as McMaster Carr and Grab CAD Library
If those files cannot be found in those repositories then how to "digitize" them by using reference drawings/documents.
Also using images as canvases in fusion 360 to create some features that are not mentioned in the document that are needed in the assembly
This is a ever evolving class.
I will add things to the class over time
Possibly new projects
Or remake/update some of the content
Or mabye even delete content
come back every once and a while and check for updated content
If you have any questions don't hesitate to ask
Also check out my other classes on Udemy
Enjoy the course
Who this course is for
People looking to improve their fusion 360 expereince past beginner level.