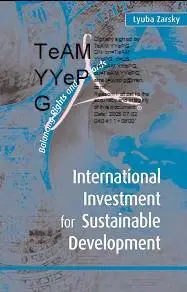 Lyuba Zarsky (Editor), «International Investment for Sustainable Development: Balancing Rights and Rewards»
Earthscan | ISBN 1844070387 | 2004 Year | PDF | 1,69 Mb | 240 Pages
This book is the culmination of the International Sustainable and Ethical Investment Rules Project, a collaboration of researchers from the following five non-governmental organization (NGO) think-tanks:
• African Centre for Technology Studies, Nairobi, Kenya;
• Fundacion ECOS, Punta del Este, Uruguay;
• International Institute for Sustainable Development, Winnipeg, Canada;
• Nautilus Institute for Security and Sustainability, Berkeley, California, US;
• Singapore Institute for International Affairs, Singapore.
Conceived and directed by Lyuba Zarsky and Sandy Buffett of the Nautilus Institute, the project aimed to articulate a framework for the governance of international investment that promotes economic development, environmental sustainability, human rights and global security. At the centre of such an investment regime is the fundamental principle that private investor rights must be balanced by investor responsibilities and public goods. Project collaborators worked together in two meetings in 2001. An initial working group meeting, held in Berkeley in April, defined the objectives and sketched broad terms of reference for research papers. The second meeting brought project researchers together with a wider group of policy experts, activists and business representatives for a strategic consultation on ethics, security and international investment. Held at the Rockefeller Brother Fund's Pocantico Conference Center in New York shortly after the September 11, 2001, bombings of the World Trade Center, the consultation generated ten-year scenarios about the governance of investment that helped to deepen the thinking behind the papers in this volume (the scenarios are available on www.nautilus.org/enviro/).