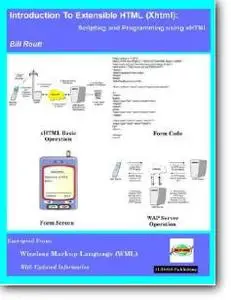 Bill Routt, "Introduction to Extensible HTML (xHTML)"
Althos | ISBN 1932813004 | 2004 Year | CHM | 0,78 Mb | 58 Pages
Introduction to Extensible HTML (xHTML), Scripting and Programming using xHTML explains the necessary programming that allows web pages and other Internet information to display and be controlled by mobile telephones and PDAs.
Althos Publishing announces the addition of its newest book in its full line of communication books, Introduction to Extensible HTML (xHTML), Scripting and Programming using xHTML.

xHTML is a programming language that is used to provide information services to portable wireless devices. This book explains how and why companies use xHTML to develop and provide information services to mobile communication devices. xHTML protocols and scripts are used to create web pages that can efficiently and reliably communicate with mobile communication devices..

This book explains what is xHTML Basic, when to use it, and why it is important to learn. You will discover how the xHTML Basic language was developed and the types of applications that benefit from xHTML Basic programs. The basic programming structure of xHTML Basic is described along with the basic commands including links, images, and special symbols that are used. An introduction to scripting is included and how to create advanced services and features using xHTML Basic programming. You will learn the similarities and difference of xHTML Basic to other communication languages including WML and HTML. You will also learn how to write and simulate xHTML Basic programs. Explained is the operation of WAP servers and how to publish xHTML Basic programs to servers to allow them to be accessed on the web. Also described is how xHTML Basic is being used and integrated with WML and WMLScript to ensure xHTML evolves to meet future communication needs.