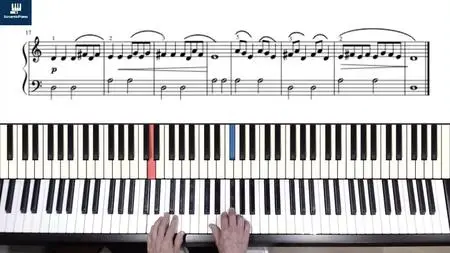 Introductory Piano Course
Video: .mp4 (1280x720, 30 fps(r)) | Audio: aac, 44100 Hz, 2ch | Size: 3.06 GB
Genre: eLearning Video | Duration: 50 lectures (3 hour, 10 mins) | Language: English

Piano Course for Beginners
What you'll learn
- Understand the mechanics of the piano
- Play piano pieces by the two most common approaches: 1) Reading traditional music notation, 2) By rote, also known as playing by ear
- Start to develop an efficient piano technique
- Form a solid foundation in music theory which will include:
1. Understanding and reading rhythmic notation
2. Understanding and identifying note names
3. Understanding and reading from the music staff
4. Identify intervals in music
5. Learn how to build major and minor scales, chords, and arpeggios
- Learn and apply the symbols and terminology used to play music with expression including dynamics, articulations, pedal, accents, and other symbols used to manipulate time and volume
Requirements
Students should have access to an acoustic piano, digital piano, or electric keyboard. No prior knowledge of music or piano skills is necessary.
Description
This course is the perfect introduction to the world of music and the piano. It is the ideal course for people with little or no prior knowledge of the piano. It is also a great course for people who perhaps have taken music lessons before but need a refresh course to start playing the piano again. With us, you will be able to develop your interest in music and in the piano while discovering and developing your own learning style and practice routine that best works for your personality. As an introductory course, you will be able to take this course on an acoustic piano, a digital piano, or a keyboard from the commodity of your home and at your own pace.
By the end of this course you will be able to:
- Understand the mechanics of the piano
- Play piano pieces by the two most common approaches:
1. Reading traditional music notation
2. By rote, also known as playing by ear
- Start to develop an efficient piano technique
- Form a solid foundation in music theory which will include
1. Understanding and reading rhythmic notation
2. Understanding and identifying note names
3. Understanding and reading from the music staff
4. Identify intervals in music
5. Learn how to build major and minor scales, chords, and arpeggios
- Learn and apply the symbols and terminology used to play music with expression including dynamics, articulations, pedal, accents, and other symbols used to manipulate time and volume
Who this course is for:
Beginner piano students
It is the ideal course for people with little or no prior knowledge of the piano
It is also a great course for people who perhaps have taken music lessons before but need a refresh course to start playing the piano again
Students interested in beginning music theory applied to the piano