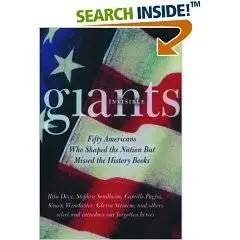 Mark C. Carnes - Invisible Giants: Fifty Americans Who Shaped the Nation but Missed the History Books
Oxford University Press | ISBN 0195168836 | PDF | 2003 | 336 pages | 2,0 MB
A pillar of support at reference desks, American National Biography sparked a marketing idea for its publisher: recruit 50 well-known contemporary authors to pick from it a once-significant, now-obscure person, and reprint the ANB article prefaced by the selector's one-page justification. The result is necessarily subjective–few of these selectors, who predominantly hail from spheres of music, literature, or popular culture, choose a figure from science, sports, or war–yet it's interestingly inquisitive. How does obscurity smother formerly bright fame? As varied as the individual subjects, some selectors, such as Jacques Barzun (on critic John Jay Chapman) or Arthur Schlesinger Jr. (on historian George Bancroft), concisely point to changing tastes. Others answer the question more obliquely: the mainstream success of a musical genre such as the blues or the widespread acceptance of birth control erodes the impact of its pioneers. That's a shame, because each of these ANB subjects left a mark perceptible in modern America, filling this volume with surprises for even the most widely read.
No pass. Enjoy.