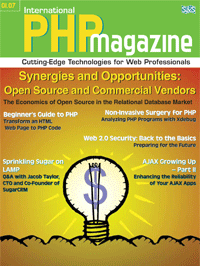 International PHP Magazine - January 2007 Issue | PDF | 45 Pages | 1.8 Mb
In this issue:
- Non-Invasive Surgery for PHP
By Stefan Priebsch
: When we read our own code after a while, we sometimes have a hard time figuring out what the code actually does. When it comes to other people's code, things can get really tough. Luckily, Xdebug is a great tool that can help to understand and analyze PHP code in a non-invasive way.
- Beginner's Guide to PHP
By Marc Isikoff
: Over the last three issues, I've dealt with the basics of PHP, to provide you with a good background of PHP syntax, variables and processing loguc. In this issue we'll look into a practical PHP to HTML program so you can put all the knowledge you've gained to make web pages. We will see what PHP can do and how you can write code to make PHP render wonderful web pages.
- AJAX Growing Up – Part II
By Robert-Jan de Vries
: Since AJAX has become a mainstream technology for a "richer" Internet, most programmers have successfully implemented it or have at least experimented with the possibilities. As the complexity of AJAX-based web applications grows, so does the need for reliability. In this second (and last) part, I will discuss how to sculpt your AJAX environment to optimize feedback to the user when an (unexpected) error occurs.
- Web 2.0 Security: Back to the Basics
By Kang Meng Chow
: The new buzzword these days is 'Web 2.0'. While the definition of Web 2.0 may vary amongst individuals, we all agree that it is no longer the yesterday's one-to-many Internet that we have somehow accustomed to. Blogging (as in Windows Live Spaces), Video-sharing (as in YouTube.com, or Windows Live SoapBox), Music-sharing (as in MySpace.com), Photo-sharing (as in Flickr.com), Podcasting, Instant Messaging (as in Live Messenger), Real Simple Syndication (RSS), Wiki, and the list go on. Today's Web is highly interactive, complex, and interconnected; a system that provides for fast changing many-to-many interactions, allowing anyone to actively contribute to its contents using an assortment of mobile and wireless devices rather than just consuming them previously from a fixed wired desktop computer. Such is the Web 2.0 era, creating many new business opportunities while bringing Internet to the next stage of its evolution.
Download:
http://www.ftp2share.com/file/33479/IPM.01.07.rar.html
(1.8 Mb)