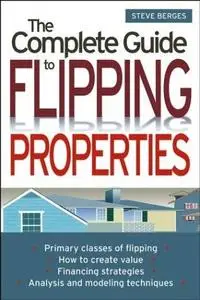 The Complete Guide to Flipping Properties by Steve Berges
John Wiley & Sons; 2003-11-14 | ISBN-10: 0471463310 | PDF | 2.8 Mb | 240 pages
PL77 ROX!
The Complete Guide to Flipping Properties
By: Steve Berges
ISBN: 0471463310
Publisher: John Wiley & Sons - 2003-11-14
Paperback | 240 Pages | List Price: $19.95 (USD) | Sales Rank: 3397
Product Dimensions: 9.02 x 6.04 x 0.64 inches

Fix and flip single-family houses for quick profit–and long-term prosperity

The Complete Guide to Flipping Properties offers proven, straightforward guidance for anyone interested in flipping properties for quick profits. This comprehensive guide to flipping will help any real estate investor design a detailed plan for achieving their financial goals as quickly as possible. Steve Berges, creator of the value play strategy, shows you step by step how to flip properties and lock in profits. With in-depth explanations of every aspect of the art of flipping–from finding properties and closing the deal, to repairing houses and reselling at the best price–this book is the ultimate resource for novice investors and real estate pros alike.

The Complete Guide to Flipping Properties includes:

* Time-tested strategies for flipping
* Ten proven methods for locating great properties
* Property valuation methods–and which one is right for you
* Financial analysis and modeling techniques
* How to create value and maximize your profits
* Seven steps of successful negotiation
* How to close the deal
* Foolproof exit strategies for getting rid of properties
* How to assemble a winning team of professionals
* Three keys to maximizing your potential as a real estate investor

With tips on writing business plans, investing on credit or with OPM (other people's money), and creative financing methods, The Complete Guide to Flipping Properties gives any investor the tools they need to build wealth safely and reliably.