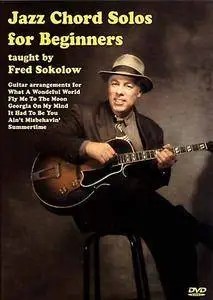 Jazz Chord Solos for Beginners
.MKV, AVC, 1200 kbps, 720x540 | English, AAC, 128 kbps, 2 Ch | 84 mins | + PDF | 1.07 GB
Instructor: Fred Sokolow
In this DVD, you'll learn six timeless tunes from start to finish: how to play backup while you sing them, and how to play a beautiful chord-melody solo/instrumental for each song. The tunes are arranged for beginners: there are no difficult chords, and Fred goes over the tricky spots in each tune before playing it…then you'll watch him replay the song, slower, on a split screen with close-ups of both hands. Just for fun, Fred includes the rarely-heard introductory verses to three of the songs. Best of all, you can read all six arrangements (tablature, music and chord grids) in the PDF booklet that comes with this DVD. Chord soloing (playing the melody and chords at the same time) is a very complete and satisfying guitar style. This lesson will get you started and Fred's relaxed teaching style makes it easy.
Titles include: Summertime, Fly Me To the Moon, Georgia On My Mind, It Had To Be You, What a Wonderful World and Ain't Misbehavin'