Juniper Networks(r) Routers: The Complete Reference
Size: 13.1mb
Download is in
.rar
format, the book is in
.pdf
Password: www.wareznet.net
http://rapidshare.com/files/49...s___The_Complete_Reference.rar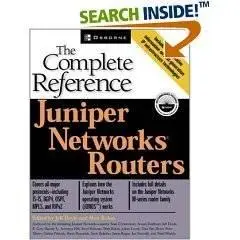 Publisher: Osborne/McGraw-Hill (February 12, 2002)
Pages: 1072
ISBN: 0072194812
As others have pointed out you can read the Juniper technical publications and IETF drafts and RFCs instead of this book. I find that opinion interesting since almost ALL technical books dealing with IP technology one could say the same and they all heavily borrow from the actual RFCs/drafts.
My point is, this book is no different than other books in it's field meaning you could read a volume of books/publications that has 10,000's of pages stacked on your floor or you could get a condensed version of all that by reading The complete ref for Juniper Networks Routers.
What you won't get in the IETF drafts/RFC's and Juniper technical publications is the step by step how-to reference on setting up the various configs using JUNOS along with a description of what is occurring. You also are not sickened with any idiotic marketing hype that is always in Cisco IOS books which makes one wonder who wrote them (marketing or an actual engineer). Pretty much they give you a straightforward guide on how to setup JUNOS without a bunch of fluff.
It's a great reference on JUNOS overall and probably the BEST (far better than Doyle's IOS chapter on ISIS) reference on integrated ISIS outside of reading the ISO specs (which can be annoying to read compared to an RFC!!!).