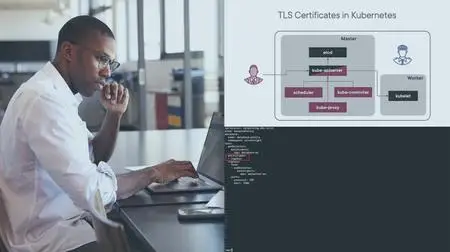 Kubernetes Security: Cluster Setup
.MP4, AVC, 1280x720, 30 fps | English, AAC, 2 Ch | 39m | 80.5 MB
Instructor: Antonio Jesús Piedra
Kubernetes is an open-source system for automating deployment, scaling, and management of containerized applications. This course will teach you how to perform a secure set-up of the Kubernetes cluster.
Like any other technology, if Kubernetes is not implemented correctly, it can be vulnerable to security threats. In this course, Kubernetes Security: Cluster Setup, you'll learn to how to perform a secure set-up for your Kubernetes cluster. First, you'll explore how the API traffic flows between components and learn how to encrypt it and restrict the traffic calls. Next, you'll discover best practices to have in mind while securing the kubelet component. Finally, you'll learn how to review the cluster security using the kube-bench open source tool to make sure your cluster set-up is not vulnerable. When you're finished with this course, you'll have the skills and knowledge of Kubernetes and security best practices needed to bootstrap a secure Kubernetes cluster.