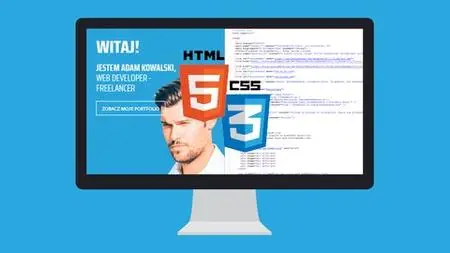 Web developer od podstaw w 15 dni
.MP4 | Video: 1280x720, 30 fps(r) | Audio: AAC, 48000 Hz, 2ch | 38.1 GB
Duration: 38 hours | Genre: eLearning | Language: Polski
Zdobądź solidne podstawy HTML i CSS i zyskaj umiejętności potrzebne do samodzielnego tworzenia nowoczesnych stron www.
What you'll learn
Tworzyć strony internetowe zgodne z aktualnymi standardami, zoptymalizowane pod kątem wyszukiwarek i dobrze wyglądające na urządzeniach mobilnych.
Korzystać z narzędzi przydatnych w pracy web/front-end developera.
Umieszczać stronę w internecie (hosting, domena).
W czasie kursu stworzysz własną stronę-wizytówkę, na której możesz umieszczać swoje projekty.
Requirements
Nie musisz posiadać wiedzy dotyczącej tworzenia stron, jedynie sprawnie poruszać się w systemie operacyjnym i internecie.
Jeśli jednak masz jakieś podstawy HTML i CSS, ale chcesz je sobie powtórzyć i utrwalić, to również jest kurs dla Ciebie!
Ten kurs jest zamkniętą całością, ale stanowi jednocześnie pierwszy z 6 etapów mojego projektu od podstaw do pierwszej pracy jako front-end developer. Pozostałe 5 kursów będzie miało swoją premierę od sierpnia 2018 do stycznia 2019.
Description
Podczas tego kursu opanujesz techniki, które pozwolą Ci tworzyć proste, ale fajne strony internetowe, które będą dobrze wyglądać również na urządzeniach mobilnych - pod koniec kursu zbudujesz taką stronę-wizytówkę. Nauczysz się od podstaw tworzyć strukturę strony w HTML i stylować ją przy pomocy CSS. Poznasz również przydatne narzędzia usprawniające pracę związaną z tworzeniem stron. Zrobimy bardzo dużo w kierunku zostania przez Ciebie dobrym web developerem.
Po opanowaniu podstaw HTML-a skupimy się na wyglądzie strony a więc CSS-ie. Zaczniemy od fundamentów, takich jak style domyślne, tworzenie własnych stylów, kaskadowość i dziedziczenie, następnie zajmiemy się najważniejszymi właściwościami CSS związanymi z wyglądem, pozycjonowaniem (ustawianiem pozycji) i przekształcaniem elementów na stronie.
Przekażę Ci także praktyczne wskazówki związane z optymalizacją strony pod kątem wyszukiwarek internetowych, tworzeniem mockupów, źródłami zdjęć na stronę czy inspiracji do projektów. Zajmiemy się zagadnieniem responsywności strony, czyli tym, jak jak za pomocą HTML i CSS zadbać o to, by wyświetlała się dobrze na ekranach o różnych rozdzielczościach.
Zadania w kursie
Nauka tworzenia stron czy programowania wymaga bardzo dużo praktyki, dlatego w tym kursie będę wymagał od Ciebie, byś robił(a) różne zadania, nie tylko oglądał(a) wideo, ale też pracował(a). Nie pomijaj zadań, MUSISZ je robić, jeśli chcesz osiągnąć efekty. Zachęcam Cię do obejrzenia przykładowych filmów z kursu, żeby zobaczyć, w jaki sposób skonstruowałam zadania.
Po opanowaniu wspomnianych wyżej fundamentów stworzymy od podstaw stronę-wizytówkę, na której możesz umieszczać swoje projekty, tworząc własne portfolio a także ją rozbudowywać. Będzie to dla Ciebie świetny trening, ale też podstawa do Twoich kolejnych projektów. Na koniec umieścimy stronę na hostingu i podepniemy do niej domenę.
Ile czasu musisz poświęcić na kurs?
Kurs podzielony jest na sekcje-dni, z których każda wymaga poświęcenia 2-3 godzin dziennie. Zaplanowałem ten kurs jako 15-dniową ścieżkę, ale możesz się uczyć szybciej, możesz się uczyć wolniej, nie każdego dnia. Ogranicza Cię czas i chęci, choć przyznam, że wielkim sukcesem, Twoim sukcesem, byłoby, gdybyś zrobił(a) ten kurs rzeczywiście w 15 dni. Jeśli zdecydujesz się rozłożyć ten kurs na więcej niż 15 dni, to niech nie będzie to więcej niż 30 dni. Oczywiście nie ma przeszkód, by – jeśli masz czas i ochotę – robić np. 2 dni jednego dnia.
Kurs jako start do zostania web/front-end developerem
Kurs jest pierwszą częścią mojego programu "Od podstaw do pracy front-end developera", obejmującego 6 etapów-kursów na Udemy, które będą mieć premiery od lipca 2018 do kwietnia 2019. Opanowanie HTML i CSS stanowi pierwszy duży krok do pracy web/front-end developera i pozwala tworzyć strony internetowe. Jeśli chcesz rozpocząć swoją ścieżkę zawodową jako front-end developer, to zapraszam Cię do wspólnej nauki przez cały ten projekt. Jednak ten kurs stanowi jednocześnie samodzielną całość, która pozwala Ci opanować fundamenty CSS i HTML, tworzyć proste, fajne strony internetowe i umieszczać je w internecie.
Who this course is for:
Osoby będące na początku drogi do zostania front-end developerem i rozpoczęcia kariery w branży IT.
Osoby, które chcą nauczyć się tworzenia stron, aby wykorzystać to w obecnej pracy/działalności.
Osoby, które znają podstawy HTML i CSS, ale chcą je sobie powtórzyć i utrwalić.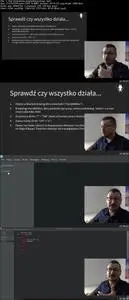 Bookmark My Blog & Visit it Daily for More Video Tutorial