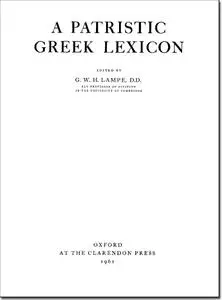 Lampe, Patristic Greek Lexicon
Oxford University Press, USA | 1961 | 1568 pages | ISBN 019864213X | PDF | ~167 MB
amazon.com link
A contribution to the Classical Languages Team Project
Customer review:
The Patristic Greek Lexicon is indispensable for the study of Patristic. More than a mere supplement to Liddell and Scott, this work has as primary object the interpretation of the theological and ecclesiastical vocabulary of the Greek Christian authors from Clement of Rome to Theodore of Studium.

These limits are necessarily somewhat arbitrary. They have been drawn with the object of confining the Lexicon, as far as possible, to the formative period of the history of Christian thought and institutions, beginning in the sub-apostolic age (but excluding any works of that period which are contained in the canon of the New Testament) and embracing the whole era of the Creeds, the Councils down to the Second Council of Nicaea, and the great doctrinal disputes down to the Iconoclastic Controversy.

All words illustrating the development of Christian thought and institutions have been treated as fully as possible, with extensive citations of the more important relevant passages.

A secondary object of the Lexicon is to give information about all words whether of any theological importance or not, which aroused by these writers but not included in Liddell Scott-Jones. A very large number of such words are listed here, distinguished in each case by an asterisk.

The relation of this work to Liddell Scott- Jones demands special attention. No word, which is well attested in the latter and has no particular interest for the reader of the Fathers, is included in this book. The absence of a word must on no account be understood as an indication that the patristic authors do not use it. In order, too, to make more space available for articles of major interest, the common meanings of any word, already noted by Liddell Scott-Jones, are not repeated here unless they are of significance for patristic study. Thus a common word to which Liddell Scott-Jones devote a long article may appear in this Lexicon with only one, and that an unusual, meaning. The user of this work is, in fact, assumed to have Liddell and Scott by its side. So, we strongly recommend that both dictionaries should be bought in order to succeed in the study of Patristic.
I have received the Lexicon in form of scanned .tif files, and I have made this .pdf out of them, inserting the first word of each page as a bookmark. Pages 1202-1203 were missing from the material I've received; if anyone has them, please upload them for us.
Download:
http://rapidshare.com/files/1419056/Lampe__Patristic_Greek_Lexicon_1961.part1.rar
http://rapidshare.com/files/1419058/Lampe__Patristic_Greek_Lexicon_1961.part2.rar
http://rapidshare.com/files/1416683/Lampe__Patristic_Greek_Lexicon_1961.part3.rar
http://rapidshare.com/files/1416684/Lampe__Patristic_Greek_Lexicon_1961.part4.rar
Check the Classical Languages Team Project page for more downloads in Latin, Greek, Hebrew, Aramaic and Syriac, as well as in Classical Arabic and Sanskrit, at uztranslations.net.ru/classics.html .

And please - if you like these posts, do contribute to the Project.