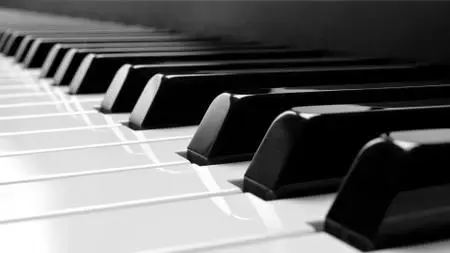 Learn Piano Today: How to Play Piano Keyboard for Beginners
Video: .mp4 (1280x720, 30 fps(r)) | Audio: aac, 44100 Hz, 2ch | Size: 2.43 GB
Genre: eLearning Video | Duration: 75 lectures (4 hour, 45 mins) | Language: English
Play piano or keyboard today both hands together. No prior ability to read music. Entire pieces from the first lessons.
What you'll learn
Transform from a complete beginner piano student to the level of an early intermediate standard pianist within only 30 days (assuming a personal committment to daily practice).
Play confidently both hands together in a variety of styles, positions on the keyboard, key signatures, and genres of music.
Learn and engage with a substantial repertoire of pieces you have known and loved your entire life, and be able to play these piano pieces to entertain your family and friends. Astound them with your newfound skills and abilities. You will be an action taker instead of a passive observer
Speak the language of piano music, by learning it's common terms and expressions.
Gain a working understanding of all Major and Minor scales, the 4 main Chord families (the essential building blocks of all musical composition) and how to play and utilize these in any inversion on the keyboard
Requirements
Access to a Piano or Keyboard musical instrument. Try to schedule for about 15-20 minutes of practice a day if you can.
If you already know some music theory, or play another instrument, this knowledge may benefit you as the course progresses, but it is not necessary as all is fully explained in the course lectures and accompanying lesson descriptions
Various Piano apps on the iPhone / iPad and Android platforms may also be suitable for initially learning many of the beginner introductory level lesson material
Downloadable Pdf piano sheet music is included for all pieces in the Public Domain
Description
Learn how to Play the piano or keyboard at any age. Join a 8,000+ strong community of fellow piano students learning together in this much-loved Udemy music course.
Bigger, Better, Learn Faster. - Play entire piano pieces from the earliest lessons. (Be sure to watch and try out the course 'preview' lessons)
No prior musical theory knowledge, nor the ability to read piano sheet music necessary for this course. Easy to understand lessons that stay on-topic, teaching you the basics of what you need to know, step-by-step.
Learn how to transform from a complete novice beginner to the level of an early intermediate standard pianist.
Learn all the skills to achieve mastery of the piano - With time-stamped video lessons, extensive lesson descriptions, and detailed notes.
Learn an extensive repertoire of well-loved piano favorites - Available 24 hours a day, 7 days a week. (See the course section listings.)
Have the online support and mentoring of an expert piano teacher and performer, with 30+ years experience. Have all your questions answered - just drop me a message, or ask your fellow piano students on the course discussion board.
In a recent PhD research paper, 94% of all adults surveyed and 82% of the overall population said they would love to be able to play the piano.
Check out Lecture One of the course: '100 Personal Benefits of Learning Piano Today.' You can read and/or download the document with no further obligation.
Why not test drive the course and learn your first piano pieces today, as shown in the sample video lessons? Just look for the 'Preview' sign beside the available videos.
Remember: All updates, insider tips and tricks, supplementary material, and exclusive additional lesson content will come to you at no extra charge.
What you pay today is all you will ever pay. Period. For a course that never expires!
There's even a 30 day money back guarantee.
Receive a year's worth of piano lessons for the price of a few hours face-to-face. Simple, fast, easy, direct, convenient, - and all delivered instantly at outstanding value.
Rewind, replay, repeat, download - Learn in your own time at your own pace.
Learn how to play your first piano pieces within minutes.
You want it, you need it, you like it, and you can afford it. So why not buy it? Don't delay, 'Learn Piano Today'.
Note: This course is equally suitable for beginner keyboard players.
Course materials last updated on 1st November 2018.
Who this course is for:
Every journey begins with the first step. Now you can take that first step whenever you are ready. This course is suitable for anybody aged between 5 and 85 plus!
You have a dream and we have the solution. We understand your needs. This course assumes no prior musical knowledge of any kind. Let us take the mystery and difficulty out of learning how to play piano for you. You do not need to be able to read piano score sheet music to take this course.
The only ability you need possess is the ability to commit to regular practice and follow the video material as shown
An experienced professional pianist and dedicated music tutor will guide and teach you every step of the way on your musical journey. This course is suitable for young or adult, beginner or intermediate, a new or returning student to piano.