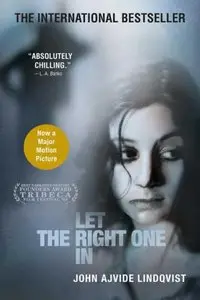 Let the Right One In: A Novel by John Ajvide Lindqvist
Publisher: St. Martin's Griffin | Pages: 455 | 2008 | ISBN 0312355297 | PDF | 1.79 MB
Swedish author Lindqvist's debut, a horror novel, offers few twists that won't already be familiar to readers of modern vampire fiction. Oskar, a much bullied 12-year-old schoolboy living in a Stockholm suburb, notices that his next-door neighbor, Eli, has some peculiar traits: Eli only comes out at night, smells like death warmed over and is of ambiguous gender. Eventually, Eli reveals he's a vampire who survives by feeding off the neighborhood lowlifes. Occasionally, his bite accidentally turns victims into undeads who, unaware of their vampirization, go on rampages that end in spectacularly gruesome fates. As sweet as the pure and wholesome friendship between Oskar and Eli may be, it's the gory set pieces that propel the predictable plot.