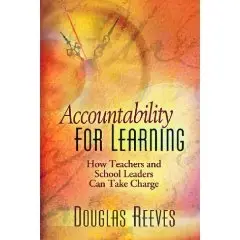 Douglas B. Reeves "Accountability for Learning: How Teachers and School Leaders Can Take Charge"
ASCD | ISBN 0871208334 | January 2004 | PDF | 1,4 Mb | 160 Pages
Accountability. The very mention of the word strikes fear in the hearts of many teachers and school leaders, leading to confusion and panic rather than improved student achievement. Author Douglas B. Reeves explains how to transform accountability from destructive and demoralizing accounting drills into a constructive decision-making process that improves teaching, learning, and leadership. Reeves encourages educators to become proactive in developing student-centered accountability systems. These systems capture the many aspects of teaching that test scores don't reveal-they tell the stories behind the numbers. Reeves shows how educators can create accountability systems that enhance teacher motivation and lead to significant improvements in student achievement and equity, even in traditionally low-performing schools.