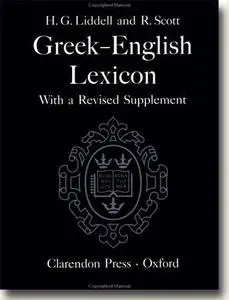 A Greek-English Lexicon, Ninth Edition with a Revised Supplement (Hardcover)
by Roderick McKenzie (Assistant), Henry George Liddell (Compiler), Robert Scott (Compiler), Henry Stuart Jones (Editor)
Oxford University Press, USA; 9 edition (August 1, 1996) | 2438 pp | ISBN: 0198642261 | PDF | 221 MB
amazon.com
:
"Liddell & Scott's Greek-English Lexicon is the most comprehensive and up-to-date ancient Greek dictionary in the world. Used by every student of ancient Greek in the English-speaking world, the dictionary covers every surviving ancient Greek author and text discovered up to 1940, from the Pre-Classical Greek of Homer and Hesiod to Classical Greek to the Hellenistic Period, including the Greek Old and New Testaments. This monumental work is now available with a brand new Revised Supplement. Representing the culmination of thirteen years' work, the new Supplement is a complete replacement of the 1968 Supplement. Nearly twice the size of the 1968 edition, with over 20,000 entries, it adds to the dictionary words and forms from papyri and inscriptions discovered between 1940 and the 1990s as well as a host of other revisions, updatings, and corrections to the main dictionary. Linear B forms are shown within entries for the first time, and the Revised Supplement gives the dictionary a date-range from 1200 BC to 600 AD. It is fully cross-referenced to the main text but additions have been designed to be easily used without constant reference to the main text."
This PDF, found at the Chinese emule page
http://lib.verycd.com/2006/10/10/0000123336.html
, was created of a scanned version of Russian origin (at least I have received it from Russian friends). Слава ему, который сканнировал. I have added two pages that were corrupt in the PDF, and a clickable content list so that you can directly jump to the first page of each letter section.
Download (80, 80, 58 MB):
http://rapidshare.de/files/36322674/Greek-English.Lexicon.Liddell.Scott.Clarendon.Oxford.9th.1996.part1.rar
http://rapidshare.de/files/36330128/Greek-English.Lexicon.Liddell.Scott.Clarendon.Oxford.9th.1996.part2.rar
http://rapidshare.de/files/36315531/Greek-English.Lexicon.Liddell.Scott.Clarendon.Oxford.9th.1996.part3.rar
Check out my earlier posts of Classical Studies as well: the authoritative Hebrew dictionary of Gesenius at
http://avaxhome.ws/ebooks/gesenius.html
and the CD edition of the Dead Sea Scrolls at
http://avaxhome.ws/ebooks/deadseascrollscd.html
.
Actually, I'm considering
to launch a team project publishing similar materials
- important dictionaries, grammars, manuals, editions of authors etc., both in scanned and in processed format (CD, DVD) - to Classical Languages: Greek, Latin, Hebrew, Syriac, Aramaic, Old Slavic, and whatever else you propose and are interested in. I myself have a lot of such material ready to upload, but of course much more could be added.
Are you willing to collaborate in such a project, and build up a super-library of the Classical Philologist here at Avax?
Tell me if yes - and if there will be enough collaborators, then the project will start.