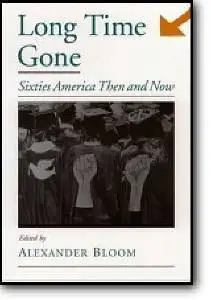 Alexander Bloom (Editor), «Long Time Gone : Sixties America Then and Now»
Oxford University Press | ISBN 0195125150 | 2001 Year | PDF | 1,04 Mb | 256 Pages
With remarkable speed, the Sixties have gone from lived history to mythology. They remain alive in our culture in a manner different from any previous era. At the dawn of a new century, we are still debating the issues that emerged during that decade, still living in the conscious aftermath of its events and transformations.
This collection looks back at the Sixties, attempting to understand the issues of the day on their own terms and to think about their meanings in today's world. Alexander Bloom has gathered ten original essays, each of which explores the gulf between history and myth regarding a central characteristic of the Sixties. Topics covered include civil rights, the student movement and the New Left, the Vietnam War, the antiwar movement, gay rights, the counterculture, and the women's movement.
Long Time Gone dispels myths about the Sixties and constructs an accurate vision of the past and an understanding of its impact on the modern world. It is an invaluable resource for anyone seeking deeper knowledge of this incredible decade and its continuing influence on American culture.