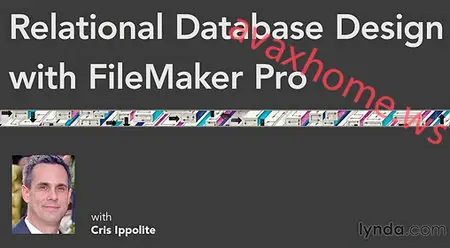 Lynda.com - Relational Database Design with FileMaker Pro | 339 MB
Duration: 2h 32m | Video: AVC (.mov) 960x600 15fps 200Kbps | Audio: AAC 48KHz 96Kbps 1ch
Genre: eLearning | Language: English | Level: Intermediate
In Relational Database Design with FileMaker Pro, author Cris Ippolite shows how to translate aspects of the real world into the form and language of a relational database, using three practical data modeling examples. The course begins by reviewing some of the basic concepts of data modeling, introducing tables, key fields, and the Relationship Graph. Then, after demonstrating how to establish relationships in a database, the course concludes with a demonstration of some advanced modeling techniques, such as filtering, scripting, and the use of portals. Exercise files are included with the course.
The course applies to versions of FileMaker Pro from 7 through the most current version.
Topics include:
* Reviewing relationships types
* Diagramming relationships
* Resolving many-to-many relationships
* Determining which tables need key fields
* Defining tables in FileMaker Pro
* Using the Relationship Graph
* Using multiple match fields in one relationship
* Using global fields to filter portals
* Creating self relationships
* Creating aggregate functions using relationships
No mirrors below please.