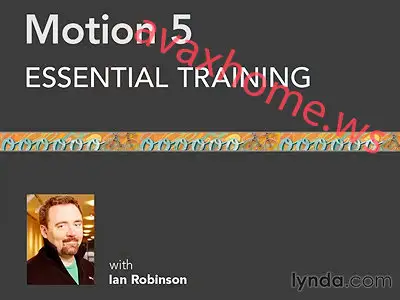 Lynda.com - Motion 5 Essential Training | 2.27 GB
Duration: 8h 41m | Video: AVC (.mov) 960x600 15fps 166Kbps | Audio: AAC 48KHz 96Kbps 1ch
Genre: eLearning | Language: English | Level: Beginner
In Motion 5 Essential Training, author Ian Robinson shows how to create stunning motion graphics and animations for video production. The course explains how to format and animate type with the Transform Glyph tool and explores Motion's real-time 3D tools. The course also covers working in 3D space, creating depth with lights and shadows, keying green screen effects, and working with particle systems. In addition, Ian offers practical advice on integrating Motion into a professional video workflow and explains how to work smarter using rigs and templates. Exercise files accompany the course.
Topics include:
* Getting started with Motion and setting essential preferences
* Working with layers, groups, and blend modes
* Animating and adjusting behaviors
* Building custom presets to create a slideshow
* Keyframing animation
* Animating type along a path
* Creating credit rolls
* Understanding generators
* Adding reflections
* Controlling and animating cameras
* Creating depth of field in a composition
* Adjusting audio
* Exporting, sharing, and archiving a project
No mirrors below please.