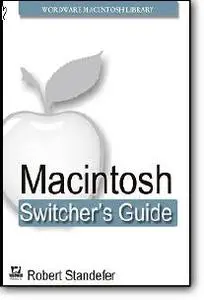 Robert Standefer, «Macintosh Switcher's Guide»
Wordware Publishing | ISBN 1556220456 | 2004 Year | PDF | 5,69 Mb | 400 Pages
Designed for Windows users ready to make the switch, this book covers the beginnings of Apple and Macintosh, how to turn Windows skills into Macintosh skills, and other topics important to a new Mac user coming from the Windows world.
Password
:
www.AvaxHome.ru
Download from Rapidshare
Бонус | Bonus
My other uploaded eBooks (1900+) - links and descriptions
Другие книги, закаченные мной (более 1900) - ссылки и библиографические данные
New!
version 6 (May 03 2006) [1,1 Mb] | Format: txt
Download eBooks list from Mytempdir
Download eBooks list from Rapidshare
If you need a book from the list but the link doesn't work
anymore, send me a message. Also write me about dead links in my other posts, please.
Если Вам необходима книга из списка, а ссылка на нее не работает, то отправьте мне сообщение. Также пожалуйста отправляйте мне сообщения о нерабочих ссылках в моих постах.