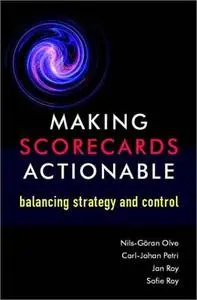 Nils-Göran Olve Carl-Johan Petri Jan Roy Sofie Roy
Making Scorecards Actionable: Balancing Strategy and Control
John Wiley & Sons | ISBN: 0470848715 | 2003 | 320 pages | PDF | 2.0 MB
The concept of the Balanced Scorecard has become increasingly popular in the global business world as a tool for balancing business strategy with financial concerns, customer care, internal business processes, and learning and growth. This book focuses on the hands-on experiences of companies across a broad range of organizations at both operational and board level. Drawn from cases in the UK, Europe, the United States, and Japan, the book shows that though Balanced Scorecard has been adopted widely, it is practiced in different forms and with varying degrees of success. Making Scorecards Actionable helps in creating and communicating a total comprehensive strategy to all organizational members from the top down.
* Provides a long-term view of what the company's strategic objectives really are.
* Shows how to make use of knowledge gained through experience.
* Demonstrates the required flexibility of such a system to cope with the fast-changing business environment.
* This book provides a practice-based follow on from the successful Performance Drivers by Olve, Roy and Welter (0471 986232)
Readership: Operational managers, consultants, and business students.