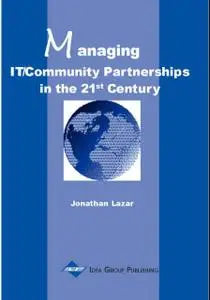 Jonathan Lazar, «Managing IT/Community Partnerships in the 21st Century»
Idea Group Publishing | ISBN 1930708335 | 2002 Year | 295 Pages
Book Description
Universities are increasingly being asked to play a greater role in their communities. With the growth of the technology industry and the increasing importance of the Internet in education and everyday life, academic IT departments are beginning to form partnerships with both non-profit and for-profit organizations in the local community. These partnerships can relate to the whole curriculum, to specific classes, to students internships, to theoretical research, and to industrial research, and there are many other possibilities for IT/Community partnerships. Managing IT/Community Partnerships in the 21st Century explores the various possibilities for partnerships between academic IT departments and community-based organizations.
Review
A Must for Community Practitioners and Univ. Researchers!
:
In their efforts to effect positive local change, universities have long been directly involved in shaping the community agendas of their local milieu. The same is now becoming true as it relates to improving the local technology landscape. Universities are natural partners in community development efforts given the human, intellectual and financial resources they can bring to bear on problems. They are also logical partners in community IT initiatives for these same reasons, and in recognition of the educational and technological resources resident on their campuses. "Mangaging IT/Community Partnerships in the 21st Century" is perhaps the first comprehensive examination of the critical considerations for community-university partnerships involving information and communications technology. From course partnerships to educational and business partnerships to the so-called "digital divide," this book is a must for community practitioners and university researchers alike!