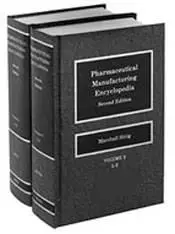 Marshall Sittig - Pharmaceutical Manufacturing Encyclopedia
e-book | pdf | 2nd Edition | 2 Volume Set | 1756 pages | 21.36 MB
Best-selling Pharmaceutical Manufacturing Encyclopedia, in its second edition is more than double the size of the previous edition.
Pharmaceutical Manufacturing Encyclopedia describes manufacturing processes for approximately 1,300 pharmaceuticals currently marketed as trade-name products around the world.
Each pharmaceutical entry contains the following information:
Therapeutic Function
Chemical Name
Common Name
Structural Formula
Chemical Abstracts Registry Number
Trade Names for Different Countries and Manufacturer's Name
Raw Materials
Manufacturing Process
Pertinent process information has been obtained from the patent literature, and references for other synthetic methods and pharmacology are cited.
A 2000-entry Raw Materials Index will quickly tell you in which drugs the raw materials are utilized. A 12,000-entry Trade Name Index completes the book.
Free of password.
http://rapidshare.de/files/24542840/marsittphamanenc.rar
You are welcome to download From OxyShare:
http://www.oxyshare.com/get/98...6787/marsittphamanenc.rar.html