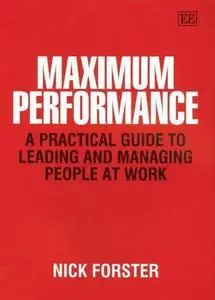 Nick Forster, «Maximum Performance: A Practical Guide To Leading And Managing People At Work»
Edward Elgar Pub | ISBN 184542378X | May 5, 2005 | 594 Pages
Book DescriptionAsia-Pacific Journal of Human Resources (March 2006):
"the book comprehensively covers leadership and people management issues that are topical in the present context of competitiveness in the contemporary business environment" …
"he has demonstrated a rare degree of professionalism in selecting and putting together the contents of the book (and) the entire sets of contents knit together exceptionally well" … "the editorial and production quality is outstanding" …
"this book can be seen as one of the best intertwinements of management theory and management practice" … "this remarkably helpful bible to practicing managers … is full of ideas, insights, analyses and even exhortations rooted in corporate and business realities, and is perhaps the best book of its type that I have read in my 34 year academic career"
(Professor Debi S. Saini).
Stern Management Review, (December 2005):
"If I were giving a graduate-level class in leadership and people management skills, I would use this book as the text"
…"if a client asked for a great book to enhance his/her leadership skills this would be one of the first books I would suggest. It's that good! This book is an outstanding resource for leaders and aspiring leaders. It is filled with an abundance of insights: the distinction it makes between a leader and a manager is one of the best, if not the best, we've read"
… "it's a powerful, broad-spectrum leadership toolkit with a wealth of information about skills and practices … it is clearly written and superbly organized. An excellent bibliography and subject index top off this outstanding work. We highly recommend this book"
(editors, Yvette Borcia and Gerry Stern)
.
Business Information Alert (September 2005):
"Maximum Performance is a comprehensive business tome. Although it is designed for students, busy executives who use the chapter summaries or chapter sections that focus in topics that interest them will find the book useful"
… "The strength of Maximum Performance is its depth. Forster touches on everything from whether leaders are born or made, to Machievellian strategies for dealing with toxic work environments. Anyone interested in leadership will find several sections of interest. Those sections that are particularly strong include the discussions on the different roles of leadership, key issues in motivating employees, the team development process, and best practices in leading organisational change"
(Scott R. Jenkins)
The Australian Financial Review (August 2005):
"This is a big book in more ways than one … a detailed and illuminating exploration of leadership qualities, attributes, skills and competencies
… the mixture of theory, reflective questions, stories, tools and practical exercises demand a level of thoughtful engagement and self-reflection rarely required by books on leadership
… the Australian content is refreshing, as is the lack of evangelistic promises of immediate transformation … this book is firmly grounded in supporting the learning and skill development needed for maximum performance" (Viv Read).
From the Publisher
Maximum Performance is an essential read for all business owners, managers, consultants and key decision makers. It is an outstanding and comprehensive insight into the broad range of managerial and leadership issues which confront business people today.
It is practical and littered with excellent case study examples and illustrations. Its unique style is easy to read, thought provoking and demystifies concepts that are easily misunderstood outside an MBA course.
Grasp and digest this book quickly because it's the smart thing to do.' –
Barry Smith
,
Managing Director
, the General Management Consulting Group 'Nick's book is an energetic and down-to-earth exploration of the many dimensions of this enigmatic thing we call leadership. It is a distillation of much knowledge, experience and insightful observation. There is refreshing and satisfying clarity of discussion; with comment on many management theories, explanations of evidence and research and the consequences of their applications in organisations.The pages are brimming with examples, keeping the messages real, practical and always interesting. Maximum Performance is thought provoking, and the reader is constantly challenged to assess his or her own knowledge, experience, attributes, perceptions and behaviour.
It is a wonderful resource for those beginning their endeavours, introducing them to the complexities of leading people, and a delightful summary of instantly recognisable experience to those who are well on the journey. It is hugely valuable to all, whether for new knowledge or a welcome refresher. And, there is just a touch of irreverence, adding an enjoyable balance to a serious subject.' –
Dr. Penny Flett
,
CEO of the Brightwater Care Group
and
Telstra Australian
Business Woman of the Year, 1998
'We all seem to know when we are receiving good or bad leadership, yet for many of us being a good leader seems to be so elusive. Why is this so? The fact that we are human and sometimes trapped by our wants, needs and motivations inevitably gets in the way, and leadership within Local Government is fraught with complex problems and competing forces both internally and externally. Maximum Performance will be an extremely useful aid for all who are looking for a practical, sensible and thought provoking insight into management and leadership issues. Nick provides an excellent insight into the mysteries of management and leadership with this very practical and useful book that I am sure will be a great resource for current and emerging leaders.' –
Ricky Burgess
, CEO of the
Western Australian Local Government Assocation
and the
Australian Institute of Management
Business Woman of the Year, 1997.