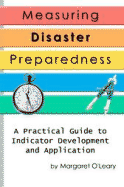 Measuring Disaster Preparedness A Practical Guide to Indicator Development and Application
Author: Margaret R O'Leary | ISBN: 0595768873 | Size: 0.82 MB | File Type: PDF File
"Measuring Disaster Preparedness" is the seminal work on using measurement to manage the disaster preparation process. Its audience is that diverse group of local leaders and public servants whom communities of various types and sizes will hold to account to plan for, mitigate, and if necessary, respond to natural–and unnatural–disasters.
Written by a seasoned expert with almost two decades of institutional and field experience in indicator development and application, "Measuring Disaster Preparedness "describes the elements of performance measurement, and provides guidance on how to manage the indicator development process, summarize data, and use indicator data to improve readiness.
"Measuring Disaster Preparedness" is an essential resource for all who are involved in working to strengthen the resilience of their communities in the face of unpredictable disasters, including terrorist acts.
Password:
stockholm
http://rapidshare.de/files/15949452/0595768873.rar