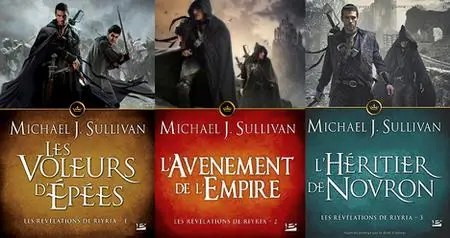 Michael J. Sullivan, "Les révélations de Riyria, Intégrale", 3 (6) tomes
2014 | ISBN: 235294757X | Français | EPUB | 1802 pages | 4.6 MB
Michael J. Sullivan est un auteur des littératures de l'imaginaire.
Son premier roman est une autopublication : "La Conspiration de la Couronne" ("The Crown Conspiracy"), sortie en octobre 2008.
Il a écrit deux séries, "Les révélations de Riyria" et "Les Chroniques Riyria", qui seront complétés par une troisième série "Le Premier Empire". Il faut ajouter "Hollow World", son roman de science-fiction publié par Tachyon Publications en Avril 2014.
L'auteur a vu trois œuvres sélectionnées pour le Choice Award Goodreads dans la catégorie Fantasy pour "The Emerald Tempest", "Percepliquis" et The Crown Tower". "Theft of Swords" a été choisi comme l'un des meilleurs titres fantasy pour Barnes & Noble en 2011.

Tome - 1 - Les voleurs d'épées
Royce et Hadrian, voleur et mercenaire, n'ont jamais reculé devant une mission. Le danger, c'est leur fonds de commerce. Alors, quand on leur propose la fortune servie sur un plateau d'argent, ils pensent n'en faire qu'une bouchée. Ils n'avaient pas prévu qu'on leur tendrait un piège. Les voilà accusés du pire des crimes : l'assassinat du roi ! Pour sauver leur peau, ils n'ont pas le choix. Il leur faut dénouer les fils d'un mystère qui, depuis des générations, renverse les monarques et bouscule les empires…

Tome - 2 - L'avènement de l'Empire
La guerre frappe désormais Melengar. Royce et Hadrian ont reçu pour mission de former une alliance secrète avec les nationalistes, en guerre contre l'empire de Nyphron. Mais Royce soupçonne Hadrian d'être sous l'emprise d'une force mystérieuse. Pour en avoir le coeur net, il doit enquêter sur le passé de son ami, ce qui risque de compromettre leur entente.

Tome - 3 - L'héritier de Novron
La guerre a atteint Melengar. Royce et Hadrian ont accepté de former une alliance avec les groupes nationalistes en guerre contre l'Empire. Mais Royce soupçonne le mage, qui les a aidés dans le passé, de les manipuler.